5 Reasons To Choose Burgundy Bridesmaid Dresses
If you are beginning your wedding planning, one of the first things that you should decide on is your color scheme. With so many colors to choose from, this can become a rather overwhelming task. Here at ChicSew.com, we are experts in wedding design and stock a wide range of dresses in a variety of shades. Often, we are asked what our favorite shades are, and while we do not have an overall favorite, burgundy is definitely in our top rankings. This impressive and regal shade flatters every skin tone, from the fairest Scandinavian white tones to the deepest stunning darker tones.  Still not sure whether it suits you? Here are our top reasons why you should choose a burgundy dress, alongside some of our favorite designs.
Burgundy Is Perfect For Every Season
Burgundy is perfect for the fall and winter seasons, as the leaves turn beautiful orange and red tones or when the Christmas season is in full swing. If you are looking for the perfect gown during the festive winter months, consider a sequin covered design like The Maledi Dress. The dress combines a one shoulder strap with a stunning sheath silhouette. The shape suits all shapes and sizes as the pleated waistline is extremely flattering, while the waist band brings the dress in, accentuating the waist. The shimmering red sequins will catch the light leading to stunning wedding photos and a truly festive yet glamourous feel.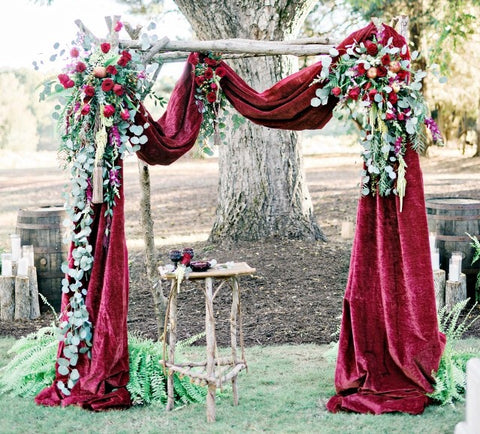 A lesser known secret, however, is that it can shine at any time of the year. In the spring and summer months, the shade can be mixed with lighter tones, such as our suggestion of burgundy and blush detailed below, to brighten up the color, giving it a refreshing twist.
Burgundy Fabrics Look Rich and Expensive
There are some tones that look cute and others that look garish, but burgundy is not either of these. Instead, its rich, jewel tone looks both expensive and luxurious, whether made from thick plush fabric or lightweight chiffon. Originally deep red and purple tones were worn by royalty as they were expensive to make. If you are looking for a bridesmaid's dress that will make them look like royalty themselves, try The Carla Dress, made from a sleek and classy burgundy satin with a high split at the front. The two spaghetti strap one-shoulder design elevates the dress, while the deep red color combined with the high-quality soft satin material adds an element of luxury.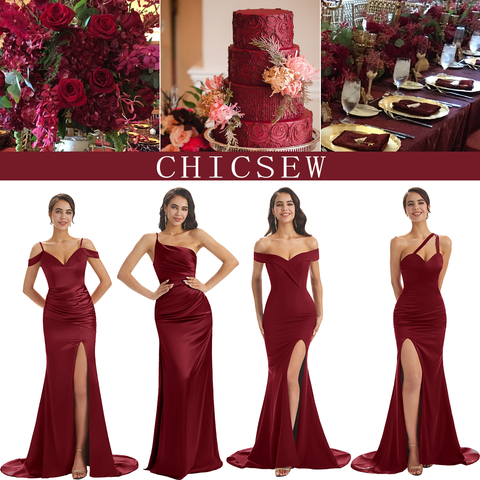 Burgundy And Blush Shades Are On Trend and Set To Stay
One of the hottest trends in bridal magazines and documented on Pinterest is Burgundy and Blush weddings. Soft blush pink paired with rich deep reds conveys a sense of romance and elegance that is unmatched. The colors both complement and contrast each other and are often used in bouquets with beautiful blush peonies and burgundy roses, as well as invitations, save the dates, table décor, wedding cakes and wedding attire. Bridesmaid dresses can be mix and match – with some in a deep red and some in a blush pink or can be burgundy with lighter accents such as The Luisa Dress. This stunning and intricate long length gown with a sweetheart neckline and mermaid skirt has a base color of deep burgundy, while the top of the dress has a delicate lace blush floral overlay, which makes it really stand out. Consider combining it with a full blush and burgundy bouquet to perfectly match this theme. No matter your budget, what is guaranteed is that this combination will lead to stunning wedding photographs that you can treasure forever.
A Burgundy Color Theme Pairs Well With Stunning Florals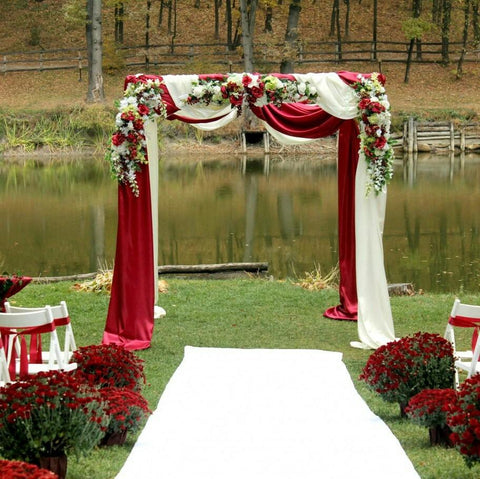 One of the key components of any bridesmaid look aside from the dress are the wedding flowers, with each bridesmaid carrying a stunning bouquet. A burgundy color theme pairs well with a number of beautiful, eye-catching florals that can be arranged to make unforgettable bouquets. These bouquets can include deep red dahlias, beautiful full red roses or wine colors Ranunculus. When thinking about the style of dress to complement your florals, consider The Althea Dress. This elegant yet innocent design pairs floaty, lightweight chiffon with intricate floral lace on the top, which outlines many different flower silhouettes. The key hole cut out and intricate lace back is a standout feature of the gown, meaning that your bridesmaids will be admired from the front and behind but are modest and graceful enough to not steal the attention away from the bride.
Burgundy Pairs Well With All Suit Colors
Burgundy is one of the only shades that works well with all the classic wedding suit colors – grey, navy or black. One of our favorite color palettes at the moment is burgundy paired with navy blue suits and crisp white shirts for a classic yet slightly nautical theme – perfect for a military navy wedding. The shade also perfectly complements a classic black tone. Take the Ollie Dress, for example, this short but charmful chiffon gown pairs the deep burgundy red color with a lightweight solid black belt which would match perfectly with black or charcoal grey tuxedos for a classy look. The black belt highlights the waistline while the floaty chiffon flatteringly skims the hips while lengthening the leg line.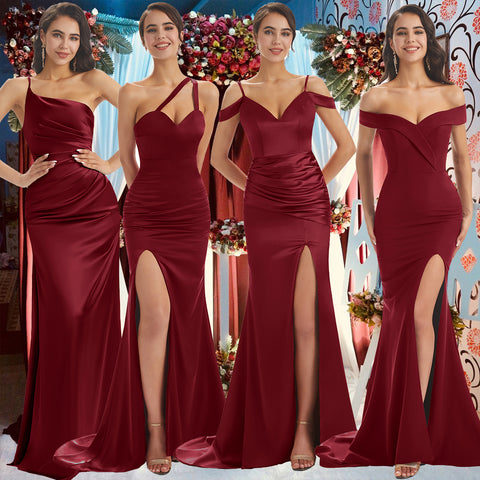 The Take Away
No matter the season or theme of your wedding, burgundy bridesmaid dresses are sure to make a statement. Pair these dresses with navy for a classic look, gold for a more regal theme or blush for a softer take.  What has been clear throughout the years is that while some color trends come and go, burgundy is here to stay. To look at our full range of burgundy dresses, check out our webpage here.
We believe you must have some other gorgeous, talented ideas on how to style burgundy dresses. Feel free to share with us!