Bridesmaids Dresses in 2022: The 3 Hot Colors We're loving
Soft satin has become a popular bridesmaid dress fabric for over a decade. The satin dress we see now for weddings is far from the heavy, super shiny satin style of the 1990s. Today's satin bridesmaid dress pays homage to the 90s style in which it has a rich silk satin style that is often cut in bias with a little stretch.The whole look is reminiscent of the 1990s slip skirt, in a matte silk style, elegant, modern and chic. While we see a lot of satin slip skirt styles, there are also some beautiful turtleneck dresses, sleeveless styles, and some partially tailored and asymmetrical styles that are beautiful modern choices. We store some nice satin bridesmaid dresses in ChicSew. Here are some of our favorite looks!
Rust Bridesmaids Dresses
Rust is a trendy colour loved by lots of bridesmaids despite the fact that it is not a traditional colour. This special colour is rich and bold, making wedding splendid. It can go well with almost all skin tone. Also, it can suit various wedding colour well. 
Rust is a beautiful burnt orange color that lends warmth to a palette. It is easy for people to associate this colour with autumn but actually this is a versatile colour that can is suitable for all seasons only if them know how to create a complementary palette.
If you need any help in finding out the most suitable bridesmaid dress for you, come and check out our top rust colored bridesmaid dresses, perfect for the trendy bride. Available in sizes 0 to 24, we offer styles that flatter women of every shape and size. Our inclusive line makes it easy, and fun, to dress everyone in your bridal party.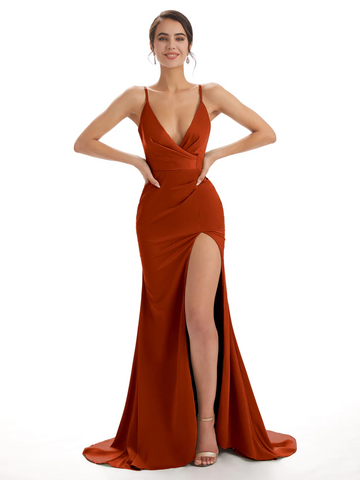 Sexy Soft Satin Side Slit Spaghetti Straps V-Neck Floor-Length Mermaid Bridesmaid Dresses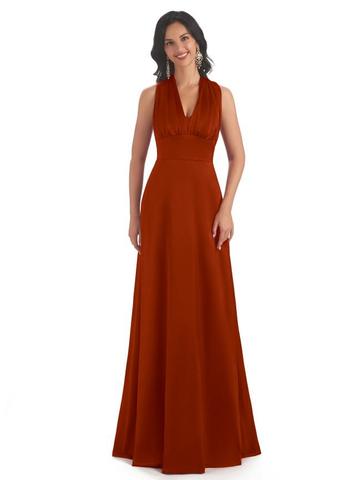 Sexy Soft Satin Side Slit One Shoulder Long Mermaid Bridesmaid Dresses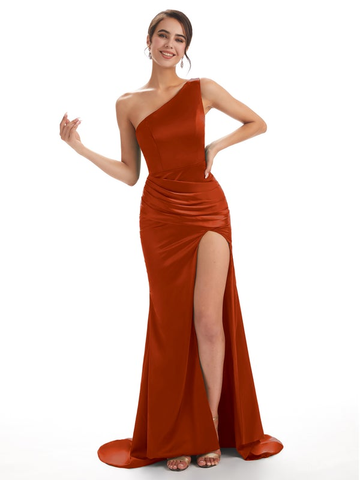 Sexy Soft Satin Side Slit One Shoulder Long Mermaid Bridesmaid Dresses
Burgundy Bridesmaids Dresses
Burgundy is a tone that can be hard to match as many designers and retailers have their own take on the wine-colored hue. But here's our understanding of burgundy. Burgundy itself is generally a darker-hued red, which makes it hard to match with other colour. However, tonal dressing is quite in and always comes across as chic and stylish. Different tones of burgundy can totally work together to create something amazing. Because of that, this is a colour that can save you from the trouble of mismatching. Burgundy is a kind of very feminine color and it can not only let the bridesmaid temperament outstanding, but also goes well with the solemn atmosphere of the wedding. Bridesmaids in a burgundy gown will bring more romance to your wedding.
This lovely deep red is especially suitable for winter and fall. The color itself represents sophistication, power, and beauty. If you're on the hunt for burgundy bridesmaid dresses, ChicSew has a wide range of deep red bridesmaid dresses and burgundy gowns to perfectly suit any bride's style. From stunning sequins to mix-and-match burgundy bridesmaid separates, we are sure to amaze you on your big day with our premium bridesmaid dress collections.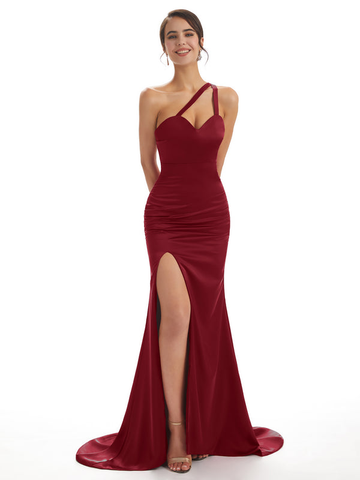 Sexy One Shoulder Soft Satin Spaghetti Strap Side Slit Mermaid Floor-Length Bridesmaid Dresses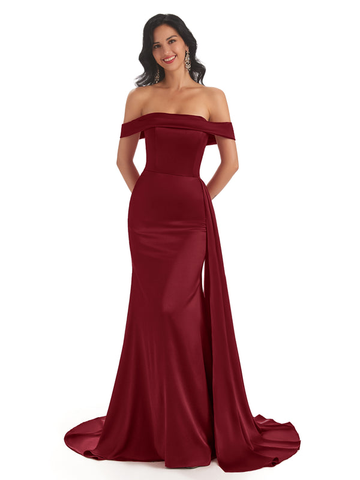 Off The Shoulder Soft Satin Mermaid Floor Length Bridesmaid Dresses Gown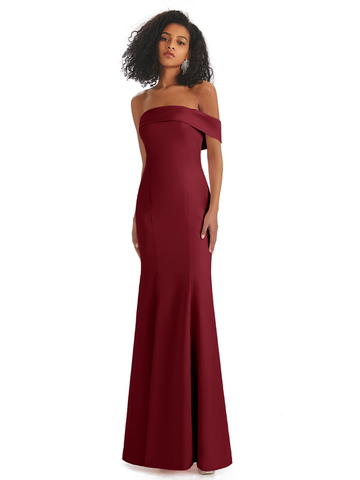 Sexy Soft Satin Unique One-Shoulder Side Slit Mermaid African Bridesmaid Dresses
Long, Gold Satin Bridesmaids Dresses
Gold is a sparkling, dazzling color that can bring praise to each other. Your bridesmaids will be happy with the golden bridesmaid dresses because they are your best friends and they should also shine in your big day. Your bridesmaids don't have to wear something understated. You will feel a million dollars if your best friends shine next to you on your big day.
No matter what kind of wedding them you want to have, the glitz one, the glam one or the rustic charm one, gold bridesmaid dresses can add a feeling of luxe to your wedding theme. What's more, because the colour gold can cast flatter shade on all skin tones, it can suit all of your bridesmaids.
Also, you can choose a smattering of gold sequins to add a touch of sparkle and sophistication to your overall theme and colour palette, but if you want to go all out, you can embrace a completely gold dress.
Take a look our favourite gorgeous gold bridesmaid dresses available right now.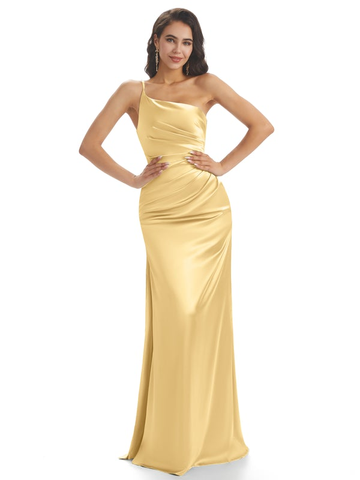 Simple Soft Satin One Shoulder Side Slit Mermaid Long Bridesmaid Dresses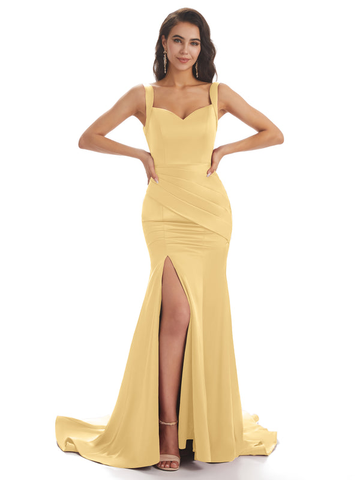 Sexy Soft Satin Side Slit Straps Square Floor-Length Mermaid Bridesmaid Dresses
Length Wedding Bridesmaid Dresses
These are the bridesmaid clothing colors we recommended in Spring 2022, and hopefully this article will help you in choosing a bridesmaid dress. If there are more questions about wedding dresses, or other dry wedding preparation goods, wedding preparation tips, you can contact us to discuss with us. ChicSew is committed to providing you with the best bridesmaid dresses.