6 Simple Reasons Burnt Orange Bridesmaid Dresses Are The Way To Go
6 Simple Reasons Burnt Orange Bridesmaid Dresses Are The Way To Go
Denoting warmth and the fall season, we've been collectively limiting orange's potential as bridesmaid dresses for far too long! It's time to start a new and beautiful trend with this toned-down and beguiling version of orange.
Blue, lilac, and peach have their charm, but bridesmaid dresses in burnt orange are an eye-catching shade that's equally versatile and flattering.
Whether it's a bright summer wedding or a cozy autumn affair, burnt orange's warm vitality can add a pop of color and a dash of magic to your fun-filled celebrations!
Still not convinced? Let us show you seven gorgeous reasons why burnt orange bridesmaid dresses are the way to go…
1. Stunningly Elegant- Chicsew Lona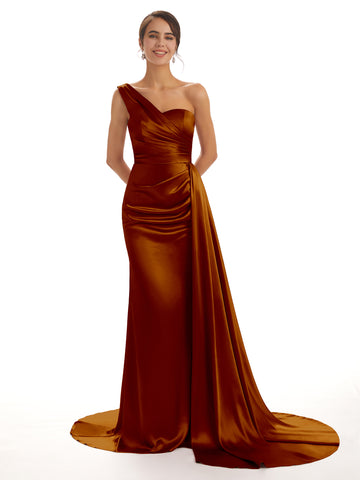 If you're looking for a unique yet striking bridesmaid dress, this can be your perfect option. Effortlessly cool and comfortable, this burnt orange one-shoulder dress has a slight earthy rusty hue and makes for a stunning bridesmaid outfit.
Whether it's a boho wedding or a simple ceremony with sophisticated vibes, the long soft satin pleats elegantly flow down and collect in a pool of lush orange. It has a great fit with a zippered back and a fully lined body without a built-in bra, slits, or fine bones. It is made of soft satin and pongee and has a one-shoulder neckline and straps.
The mermaid-themed silhouette coupled with the floor-length hemline can instantly make you feel like a princess. It's available in all sizes, has a corset back, and is perfect for concealing flaws in the stomach area. Combine it with an elegant updo and you're good to go!
2. Modern Mermaid- Chicsew Nicole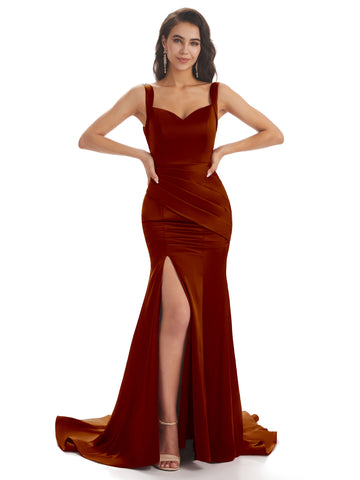 Simple, timeless, and classy, this burnt orange dress features a smart and square-shaped neckline and redefines elegance with its attractive design.
It has diagonally placed pleats that graces the waistline in soft layers and a mermaid silhouette that hugs the wearer's body.
The front slit offers a daring but not too revealing touch and makes the dress look unique and glamorous. It has a floor-length hemline, fully lined body, a zippered back, and comes in all sizes. Pair this look with drop earrings and silver shoes, and you're ready to rock the party!
3. Timeless Classic- Chicsew Melanie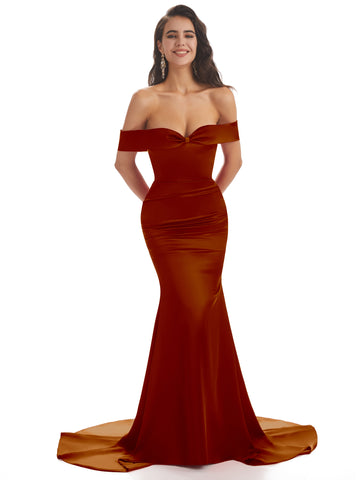 Off-shoulder dresses have always been in a class of their own. When done in burnt orange hues, it looks even more classy and chic. This burnt orange dress has a mermaid silhouette, a zippered back, and a floor-length body.
The fabric of this understated and elegantly designed dress is made of soft satin and pongee. It is stretchable and hugs the body creating a tight and attractive fit. The straps drape around the shoulders in a pretty bow-shaped design. It's available in all sizes and is fully lined without a built-in bra or boning.
Pair it with elaborate dangling silver earrings for a stunning color palette. You can wear this beautiful dress to a cocktail party, prom, as a formal dress for homecoming, or any other special occasion.
4. Spaghetti Sparkle- Chicsew Edna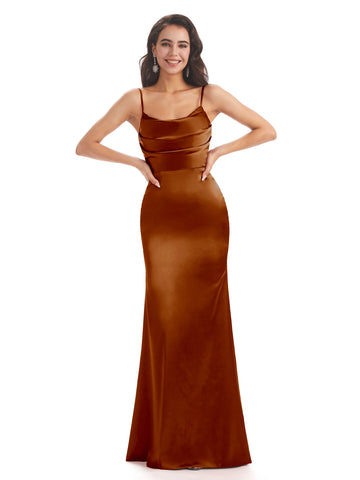 What do you get when you mix spaghetti straps with a pleated bosom? Why, this vivacious burnt orange dress of course. This dress is stylish yet simple and can be great for all types of bridal aesthetics and is perfect for all night dancing.
The spaghetti straps highlight the neck while the dress wraps snugly at the waist to flatter all figures. With its wavy mermaid silhouette and side slits, its wearer will definitely stand out from the crowd.
The material is soft satin and pongee with just the right amount of thickness. It has a zippered style at the back, a fully lined body, and a floor-length hemline that's comfortable for walking around. Pair this look with gold drop earrings and metallic sandals for a classy finish.
5. Gracefully Glamorous- Chicsew Louise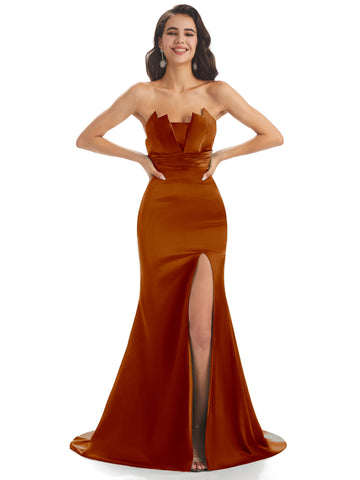 Looking for a bridesmaid dress that's stylish, beautiful, modern, and elegant? Look no further! This stunning strapless piece features an alluring front slit that's sure to keep heads turned your way.
It's made of high quality soft satin material that feels comfortable for long-time wear and a mermaid silhouette that highlights your every curve. The intricately pleated bosom is eye-catching while the waistline makes you look more confident and taller. It comes with a fully lined body, floor-length hemline, a zippered back, and in all sizes.
Accessorize it with skin-toned sandals and gold jewelry for an effortlessly sultry look.
6. A Modern Touch- Chicsew Yuri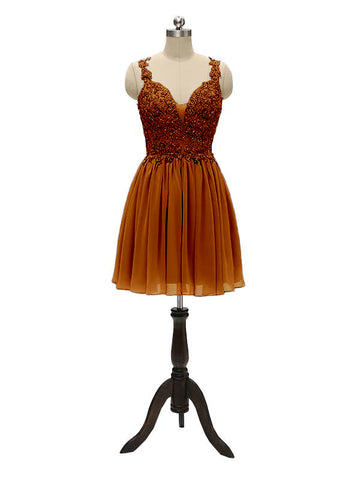 If you want to make a unique and chic style statement, this burnt orange dress with a V-shaped neckline and an appliqued bodice can be a perfect choice!
It's flawless and delicate with lace and beaded appliques. Comfortable to wear and easy to move around in, this intricately detailed strap dress features a zipper at the back, an A-line silhouette, and a low neckline. It's made from soft chiffon with sparkly beads for the bodice and a lacey hemline.
This dress is fully lined and comes with a built-in bra. Elegant and perfect for every type of ceremony, its flared skirt grazes the knees of the wearer while adding a glamorous and trendy touch. Complete the look with a braided updo and metallic sandals.
Final Words
For decades, burnt orange dresses stayed locked up in wardrobes, only to come out during the autumn months. But not anymore! It's now a new and upcoming trendy color choice that's slowly but surely becoming a bridal favorite when choosing bridesmaid dresses. If you want to make a memorable style statement during your wedding, you can't go wrong with dresses that are made in this gorgeous color.