Best Side Slit Bridesmaid Dresses Recommendations In 2022
One trend that is becoming increasingly popular for bridesmaid dresses is side slits. Side slits on dresses offer a sexy look while still appearing classy – perfect for a wedding. Additionally, slide slits are a great option to allow more movement in your bridesmaid dresses – making it easy for your bridesmaids to walk down the aisle and boogie down on the dance floor in the evening.
You want your bridesmaids looking their best and in beautiful dresses that match your wedding theme. That's why we've picked some of our most popular side slit dresses to share with you, in some of the hottest shades for 2022. Let's take a closer look.
Side Slit Burnt Orange Satin Bridesmaid Dress
Retail Price: $139.99
One of the most popular shades for 2022 is this vibrant burnt orange – and we especially love it on the Lily dress. The lily dress is one of our best-selling designs and is known for its seductive, classy and timeless style. The leg split will make your bridesmaids look glamorous and ready for the red carpet while the floor-length one-shoulder design clings to all the right places. The dress's back zipper makes it simple to put on, and the pleated front design that crosses the stomach is attractive on all body types and can hide your bridesmaid's insecurities. This stunning outfit would look amazing with statement earrings to add some extra glam to the look. When thinking of colour combinations based around burnt orange, think of pairing the shade with neutral tones for your wedding décor and bouquets, allowing the shade to truly stand out.
Side Slit Rose Gold Satin Bridesmaid Dress
Retail Price $139.99
The Carla dress is fashioned from a sleek and sophisticated satin material and features a high split at the side. If you want a bridesmaid's dress that will make your girls look like a superstar, as it clings to all the right places – this is the dress for you. The dress is designed with two spaghetti straps and one-shoulder style, and it exudes elegance thanks to its pale rose gold shade and premium soft satin fabric. The dress has a sweetheart neckline that accentuates the best features of your bridesmaids and adds curves in all the right places. On our list of side slit bridesmaid gowns, this is one of our favourites and is a style often seen on celebrities gracing the red carpet. Rose gold is a shade that can be paired with a number of different colours – think dark navy blue, warm burnt orange or sage green.
Side Slit Emerald Green Satin Bridesmaid Dress
The Elaine dress is one of our favourite choices if you're searching for a statement and chic off the shoulder style. This design compliments a variety of sizes thanks to the fitted bodice and pleated pattern over the centre of the dress. The leg split gives this design a sexy edge and the short sleeves fall gracefully over the shoulders for an ultra-feminine look. A zip up the back of the floor-length design makes it possible for the dress to fit perfectly in all the correct areas. The deep emerald green shade pairs perfectly with gold accessories, and is a great choice for autumn or winter weddings.  Green dresses are often paired with neutral bouquets packed with lots of creams or whites and plenty of greenery.
Side Slit Champagne Satin Bridesmaid Dress
Retail Price $139.99
The Melissa dress is a terrific option if you want a lower, v-neck neckline that delicately draws attention to the bust while still looking elegant.  Two skinny spaghetti straps that combine into a cross-v-neck style support the dress. The dress has some extra texture from the pleated material above the breast, and it skims over the hips to highlight them without hugging them - making this dress a comfortable design. This dress is ideal for warmer spring and summer months or can be paired with a shawl or bolero for winter weddings. The timeless champagne shade is perfect for every season and can be paired easily with a number of colours for the perfect wedding palette. Gold is also a great metal to pair worn champagne dresses, bringing out the warm tones of the shade.
Side Slit Terracotta Satin Bridesmaid Dress
Retail Price $139.99
Try the Nicole dress for a two-strap style with more thickness. This dress has an exquisite structured vibe that is ideal for a formal wedding thanks to its square neckline and ruched style. Without being overly exposing, the sweetheart neckline emphasises the breast, and the dress's back zipper makes sure it fits snugly for a tailored appearance. The garment is constructed of the finest satin material appropriate for a queen and is completely lined. Try adding some statement earrings or a delicate necklace to this dress for an elevated look. This terracotta shade is quickly becoming one of our best-sellers and is perfect for a fall wedding when paired with warm, earthy tones. 
Satin Dusty Blue Mermaid Long Bridesmaid Dress
Retail Price $139.99
A solid, simple yet elegant bridesmaid dress is never outdated, right? If you want to keep it simple, this is the way to go! The thin shoulder strap design, plus pleats and high side slit design, simple but not lacking in sexy and details. And the earth-toned dusty-blue looks great on girls of all skin tones. At the same time, its soft shades work well with other colors, you can wear it in any season, it matches with a variety of wedding themes. In addition, the exquisite and beautiful satin fabric will make you wear breathable, comfortable and natural, showing an extraordinary texture. 
Floor-Length Two-Pieces Halter Bridesmaid Dress

Retail Price $139.99
This light and comfortable maxi dress let you easily through the hot summer. Cool and breathable chiffon fabric, showing a very light and flexible sense. The ruffled sleeves bring out a fresh and refined classic style, and can also cover the flesh of the arms. The self-cultivation high-waist design with pleated elements elevates the curve of body and shows the exquisite and beautiful curve of the waist. Under the action of the wind, it flows elegantly, giving it a different and cute atmosphere, making the dresslook more elegant and stunning. 
Satin Sky Blue Off Shoulder Long Dress
Retail Price $149.99
This two-piece suit is different from a long dress, exposing the thinnest part of the waist, which can better show your most beautiful curves. If you have a lot of things to do in the event day, this one will definitely meet your requirements. Unlike other dresses, this one does not have the sense of wrapping and restraint of dresses, and will give you freedom and comfort. The lace-up design on the upper part not only gives a sense of security, but is also playful. At the same time, the bow tie on the back is exquisite and beautiful, showing a romantic and elegant temperament, showing the sweet, fresh and charming part of female. Such a large bow-tie design is very rare, which not only brings out the sense of detail, but also adds a touch of femininity to the overall shape. 
Halter Side Slit Floor-Length Mermaid Dress
Halter necklines never go out of style and are a lovely way to display your lovely shoulders. The back's open-back design is also quite alluring, and the vast open-back region displays the attractive skin. The dress is also embellished with a side slit, which lengthens the legs and makes walking easier. You may make your bridesmaid squad stand out on your big day by keeping your accessories chic and understated and your makeup light and airy.
A-Line One Shoulder Long Bridesmaid Dress
Retail Price $139.99
If you're a bride who appreciates bohemian fashion, this casual dress will undoubtedly go with your wedding's theme. This dress comes in a range of sizes to celebrate various body types and has a light blue color with a small ruffled cuff falbala design on the right shoulder. It is ideal for a beach wedding and a garden wedding. Additionally, your bridesmaids will want to wear this dress again because it is so comfortable.
Side Slit Spaghetti Straps Floor-Length Mermaid Dress
A beautiful bridesmaid dress doesn't have to cost a fortune. The Agatha dress is understated and sexy, which hugs the body in all the right places. Featuring an alluring neckline and softly pleated satin fabric, this gown is a stunning option for the budget-conscious. At the same time, green adds a bright color to your autumn wedding, you can't go wrong with this incredible chic dress.
Retail Price $139.99
This one-shoulder maxi dress with burgundy hue is a classic retro look for a fall or winter wedding bride. Even better, it has a pleated design at the waist, which not only adds a sense of design, enriching the level of clothing but also highlights the curves of women, adding unique charm to women's outfits.
Mermaid Soft Satin Spaghetti Straps Bridesmaid Dress

This dress is for you if you don't like elaborate patterns. Simple shoulder straps with just one loop also highlight your delicate collarbone line. Unique fold patterns on the chest and waist can conceal the belly and highlight your lovely curve. The mermaid train will accentuate your personality while visually elongating your legs.
V-Neck Side Slit Floor-Length Mermaid Dress
Retail Price $139.99
When opposed to chiffon, high-quality soft satin is more stretchy, distinctive, and appears more regal. Darlene is made of this material. This style has a distinctive neckline that is ideal for everyone. Your distinctive beauty will come from the high side slit. The V-neck is the ideal method to display your chest's curvature, and the distinctive straps enhance the shape of your arms and shoulders. I adore how you appear in the Darlene.
Elegant One Shoulder Mermaid Long Dress
This dress is a must-have if you like the classic style. The dress has a mermaid train with pleats. The style of pleats can alter your waist and abdomen as well as reveal the full curve of your hips, enhancing the atmosphere of your entire person. Your delicate collarbone and neckline are exposed by the distinctive one-shoulder style. The fabric is also considerably thicker than you anticipated (in a good manner), and it conceals tummy flaws more than you anticipated. 
Elegant Soft Satin Floor-Length Mermaid Bridesmaid Dress
Add a sensual representative slit design. If you want a sexier look, you might want to think about wearing a slit skirt that reveals one of your legs and gives off a sense of sensuality. When worn with a pair of high heels, it looks attractive and feminine. Additionally, the dress' strapless style enables it to be worn with any necklace or accessory, and its asymmetrical hem highlights your unique personality.
Sweetheart Strapless Mermaid Side Slit Long Bridesmaid Dress
The traditional sweetheart neckline of the sage strapless side slit satin long bridesmaid dress has been a favorite for bridesmaids for decades, and this trend is expected to last. While the ruching across the hips and the bust accentuate your bridesmaid's curves, the broader band of cloth draws the dress in at the waist. The bridesmaid will feel safe and supported on the big day thanks to the back zipper, which is also fully lined and floor length for a lovely appearance.
Elegant Soft Satin Off Shoulder Floor-Length  Dress
Retail Price $139.99
The floor-length, off-shoulder, lavender satin bridesmaid dress is a fantastic, figure-flattering style that looks excellent on every body type. The mermaid-shape skirt highlights your bridesmaids' curves, while the off-the-shoulder, flowing style is flirtatious and feminine. For outdoor weddings, satin material is ideal since it will allow the dress to flow beautifully in the mild wind. Consider complementing this style with cascading blooms that go down with the material. This dress needs very few accessories and looks great with updos because the dress speaks for itself.
Classic Side Slit Long Sleeve Bridesmaid Dress
Retail Price $139.99
The sage sexy mermaid longsleeve satin bridesmaid dress is an excellent choice for a long-sleeved bridesmaid gown that does not appear matronly. The off shoulder design is a sexy twist on a long sleeve that covers the rest of the arms. The high split also modernizes this design, while the long sleeve is elegant and appropriate for a winter or church wedding where the arms should be covered. Long sleeves are a great option if you are planning an outdoor wedding in the fall or winter when the weather may be a little cooler.
Sexy Spaghetti Strap Tea-Length Mermaid Bridesmaid Dress
Retail Price $109.99
The peach sexy soft satin tea-length bridesmaid dress is a sleek, simple, and minimalist satin design that puts a modern spin on the traditional bridesmaid gown. The spaghetti straps, midi length, and minimal detailing are stunning, but not distracting from the bride on her special day. The side zipper makes it simple to put on and take off the dress, and the slight cowl neck is both subtle and delicate. This color is ideal for an outdoor wedding in the sun which will add beauty to your bridesmaids team photos and is lightweight for warmer temperatures.
Side Slit Tulle Mermaid Bridesmaid Dress
Retail Price $139.99
Try the vintage-mauve one shoulder soft satin tulle bridesmaid dress for a softer, more Grecian-style design, which combines high-quality satin with softer pleated tulle over the top as an overskirt. The thick one-shouldered strap provides support while remaining elegant and classy, and the leg split adds a little zing to the design. This gown is ideal for a summer destination wedding by the sea or in picturesque gardens.
Sexy Soft Satin Off Shoulder Floor-Length Mermaid Bridesmaid Dress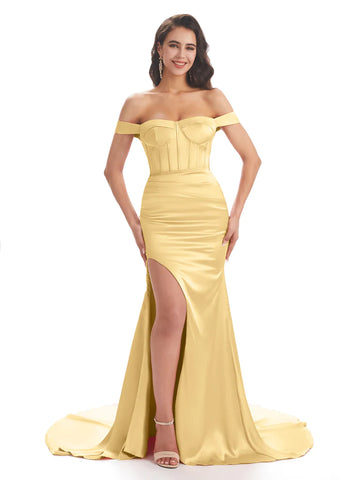 Retail Price $139.99
Consider the gold satin off shoulder long mermaid bridesmaid dress, which features a boned bodice and cupped neckline for a corset-like appearance. This provides additional support for your bridesmaids, allowing them to feel at ease on your wedding day. The off the shoulder straps sit beautifully on the arms for a refined look, and the side split is a firm favorite.
Backless Mermaid Side Slit Bridesmaid Dress
Retail Price $139.99
If you are looking for a more high-neck design, the dark-green backless mermaid satin bridesmaid dress is a great option. The dark-green satin design has a pleated bodice for delicate detail, while the higher neck is both elegant and respectful. The leg split and the beautiful backless design offer a modern and sexy take on a high neck gown, showing off the beauty of your bridesmaids. The mermaid silhouette comes in, accentuating the hips and floating down to the feet.
TheTake Away
Side slit bridesmaid dresses allow your bridesmaids to show off their femininity, while still looking classy and elegant on your special day. Each of the dresses listed above in some of our favourite shades are available in over 60 different shades – meaning that you can find the right design and shade to match your wedding aesthetic. There are also many other dress designs on the web page, with the option to filter your search by material, neckline, length and other details to make your bridesmaid dress dreams into a reality. All the dresses on our list come in a stunning, high-quality satin material which has been a popular choice throughout 2022 and is set to continue. Chicsew offers fabric swatches that you can have delivered to your door to help compare shades and feel the material in person, so why not try us out today and find the bridesmaid dress of your dreams?