THE BEST OF MAID OF HONOR DRESSES
THE BEST OF MAID OF HONOR DRESSES
INTRODUCTION
The maid of honor's dress should stand out at every wedding event; you definitely don't want to be mistaken as making your ninth appearance as a bridesmaid. Selecting a colour that is different from what the other girls are wearing is one of the easiest ways to mark your territory as the chosen one and untouchable. If the wedding is sporting a pink and beige colour combination for instance, the bridesmaids may all up in pink, while you get to stand out as the leader of the pack with a snazzy beige emerald-cut gown. The bride may decide to put you all in the same colours, but your dress will likely be cut from an entirely different cloth, literally in a bid come out unique and totally different. Picking the best bridesmaid dress is as important as the duty itself. Doing this very important and glorious duty requires your utmost attention and experts' advice to make the perfect choice that won't ruin the day for you as well as the bride. The wedding dresses are worn only on the day of the wedding. But it should be recalled that, unlike wedding gowns, bridesmaid outfits are used not only on the wedding day, but also for other wonderful occasions, such as evening parties and other cool ceremonies. So these dresses should be selected with care to make it fit for different situations.
This wonderful piece contains a few tips on choosing the most adorable outfits for your next bridesmaid role.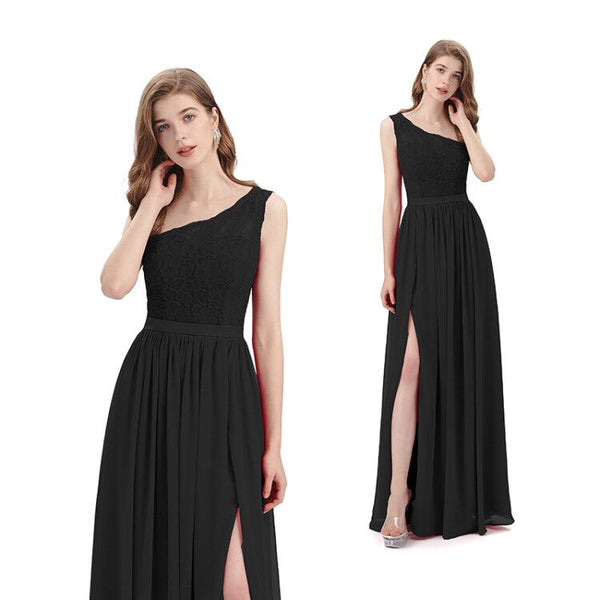 In different colours, such as blue, pink, yellow and green, the bridesmaid dresses are customized. Typically, soft colours with an elegant touch are favoured. The most famous chiffon bridesmaid dresses are just a great match. Chiffon is a kind of fabric that has a mix of silk, cotton, nylon and polyester with a slight spark and a basic stitch. Because of its slippery nature, working with chiffon cloths is very difficult, but it gives a fantastic piece of dress when skillfully worked on. They may be worn with muli-dimensional flower necklaces and brush trains of full length and elegant fashions with traditional fairy tales designs. Chiffon strapless dropped neckline dresses, chiffon strapless sweetheart neckline dresses, chiffon sexy straight neckline with one shoulder dresses, chiffon strapless straight neckline dresses, chiffon sexy scoop neckline with shoulder straps, chiffon strapless soft neckline with asymmetrical dresses are some of the notable varieties of chiffon bridesmaid dresses. Bridesmaid dresses are also selected to complement the brides' wedding gown in both colour and design. The most favoured bridesmaid dresses are the formal yet modest attires. They could be short ones or those of floor length, with or without straps made to match the wedding theme. Those dresses are available at affordable rates at various online stores. From the colour chart available, you can select the desired colour and order it to match your exact size. It will take up to twenty days for professional dressmakers to tailor their clothing. If you do not find them to fit you, some stores even offer an exchange scheme and return opportunity on all their goods. If they are your choice, you should make sure that it clean and fresh.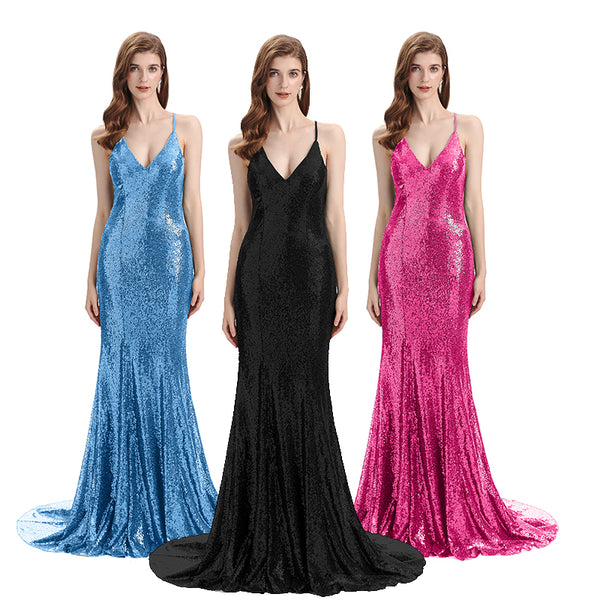 Want to make your bridal party to shine with a hint of Old Hollywood glam, simply give your squad some sparkle on that special day by choosing for them, any of the masterly-crafted sequin bridesmaid dresses. Dresses made from sequined fabrics are luxurious and glamorous and come in a range of colours and patterns to fit any bridal style. This trend has taken off with its timeless appeal and glamorous vibes in the bridal fashion world. As you can see from recent wedding events, we definitely love this on-trend look for bridesmaids.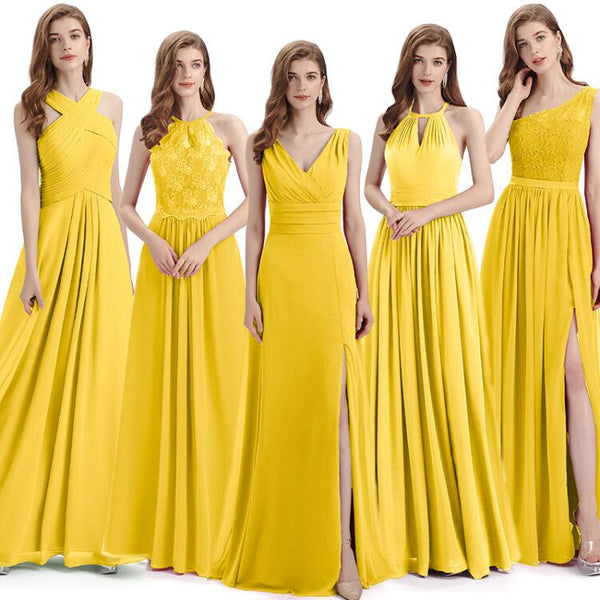 When you are choosing the bridesmaid consider the theme of the wedding. If you plan for a wedding with a traditional theme with an elegant style, then it would be a better fit for long bridesmaid dresses than the shorter one. It is particularly ideal for indoor weddings, where the floor is neat and tidy. The prevailing climatic conditions at the time of the wedding also allow you to choose the length of the gown. The dress worn on the day of the wedding adds colour not only to the bridesmaid dresses, but also to the other bridesmaid accessories such as bridesmaid handbags, flower brooch, pins and shoes. No doubt, the bride's proud appearance along with her maids will add colour to the marriage and make people rejoice over it. The majority of brides prefer long bridesmaid dresses as it gives them a classy look.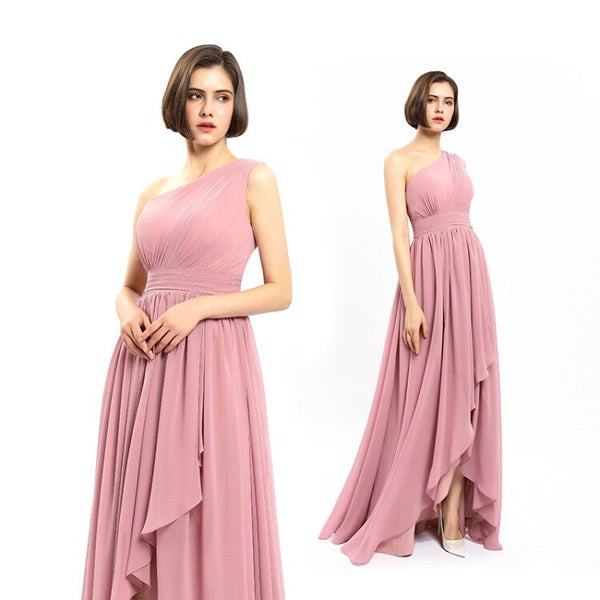 When it comes to planning a wedding, the budget is perhaps the most important aspect. Any element you want to include will easily add up to your nuptial total cost. When it comes to bridesmaids' dresses, however, spending a fortune is not necessary if you are really on tight. Since their clothes are really important, but you are trying to avoid blowing away all your savings on these things, one of the best ways to save money is to suggest simple textile bridal dresses with a bit of lace and pinstriped collar job. It's not too much of a dress style, but not so flashy to behold. You can actually find great choices of this kind that are as stylish as other clothes you can buy at a very expensive price. The rising number of bridesmaids wearing wrinkle-free fabric dresses today is really a top guide for brides and maid of honor who want cheap, comfortable dress designs. If you're among these women, it's best to do as much advanced research as you can. Browse through fashion and bridal magazines, or you can do online research. There are plenty of online guides and suggestions for picking and purchasing dresses for bridesmaids. Online forums are also available where you can register and share wedding arrangements, proposals, feedback and questions with other brides or bridesmaids. Most websites provide tips on how to reduce wedding cost, which will work to your advantage as you are planning to have a wedding on a budget, and now you are looking for ways on how limit the expenses on the bridesmaids' dresses. Certainly, these websites also provide tips and are highly affordable in terms of bridal dresses.
CONCLUSION
Choosing the best dresses for maids of honour is as important as the bride's wedding gown because these are the ones that add glamour and class to your event making it memorable and adorable. Quality time and expertise should be brought to bear in this all-important role whenever the wedding bell starts ringing.