The top 8 Stunning Blush Bridesmaid Dresses at Chicsew
Are you planning a wedding and looking for some inspiration?  And are you looking to outfit your bridal party in a versatile and universally flattering color?  If so, then you should definitely check out the latest trend in wedding colors - blush!  Blush is a color you'll want for an enchanting wedding. For party dresses,  you can have a variety of color options: burgundy, dusty- blue, champagne, gold, greens, pinks, and so much more. But there's something about a romantic,  warm hue that has a way of capturing our attention—blush color. Blush is a spectacular shade for spring and summer weddings, and the romantic color will make a stunning statement when your bridal party walks down the aisle. It is also suitable for fall and winter weddings, adding a warm hue to the stillness of fall and winter. Whether your bridal aesthetic is classy or quirky, a blush-hued bridal party dress will complement your style, and it will suit all skin tones and looks great on your favorite gal pals.
At Chicsew, you can find almost every style and neckline imaginable, from one-shoulder dresses to halter style dresses and more than 500+ different styles of bridesmaid dresses. In addition, the blush bridesmaid dresses are available in a variety of fabrics. From soft satin to chiffon to sequins. Check out check out our selection of the best blush bridal party dresses for you.
1.Sexy One Shoulder Soft Satin Spaghetti Strap Side Slit Mermaid Floor-Length Bridesmaid Dresses
This contemporary, one-shoulder blush-colored bridesmaid dress (available in sizes 0-30, as many of the bridesmaid dresses here are) exudes sophistication. The two spaghetti strap one-shoulder design elevates the dress, while the muted green color combined with the high-quality soft satin material adds an element of luxury. The dress has a sweetheart neckline that shows off your bridesmaids' assets, creating curves in all the right places. And the dress is slim and tailored, highlighting the graceful figure of women, full of femininity, which looks lovely, charming and full of unique taste. This truly is number one on our list of sexy bridesmaid dresses. 
2.Sexy Soft Satin Off Shoulder Side Slit Floor-Length Mermaid Bridesmaid Dresses
For a cool and breezy look, opt for an off-shoulder dress. This off-the-shoulder dress is divine for spring or summer weddings in a romantic blush color. Comfortable and effortlessly stylish, there dresses are ideal for enjoying a formal day. You can go for a knee-length or a floor-length dress depending on the occasion and your comfort level. Made from satin material, your bridal party will absolutely be comfortable as they dance the night away in this dress. The classic v-neckline and square-back are universally flattering,bringing the perfect touch of refinement. 
3.Sexy Soft Satin Side Slit Spaghetti Straps V-Neck Floor-Length Mermaid Bridesmaid Dresses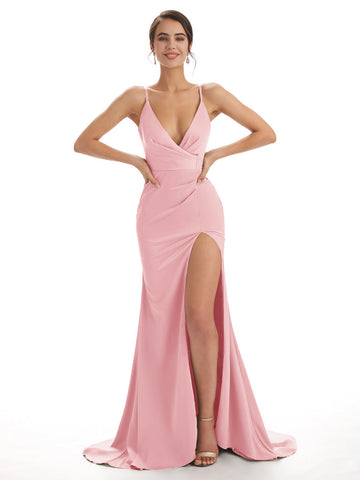 For a lower, deep v-neck neckline that elegantly accentuates the bust, the dress is a great choice. The dress is supported by two thin spaghetti straps, which then merge into a cross deep v-neck design. The pleated material over the bust gives the dress some added texture, while the dress skims over the hips,  accentuating but not clinging to them. A perfect design for warmer summer months. Add a delicate necklace to highlight the cleavage, and pair will nude shades for a classic look. If you're having a modern and relaxed wedding, this look is perfect for the occasion. 
4.Elegant Soft Satin Strapless Split Side Floor-Length Mermaid Bridesmaid Dresses
A strapless neckline provides a clean silhouette that looks great in photos and leaves plenty of room to accessorize with some pretty jewelry. Featuring a jagged neckline, this dress has a pretty mermaid silhouette that creates a smooth and sleek look. It's a flattering silhouette that works with a wide variety of body shapes and bust sizes. There's a reason why strapless bridesmaid dresses are a forever classic. If you're going to wear this gorgeous strapless bridesmaid dress to your bridal party, this is the way to go.
5.Simple Soft Satin One Shoulder Side Slit Mermaid Long Bridesmaid Dresses
The Celestine dress is a classic soft satin bridesmaid dress. The pleated design of the waist adds a sense of design and gives the original monotonous dress its own mark. The delicate and romantic mermaid skirt exudes an elegant romantic statement.The dress wraps the entire lower body and is extremely tolerant of various body shapes, allowing your legs to stretch freely under the dress without being restrained.And pleats encompass the dress that flows as you move. The thin shoulder straps look pretty tall and sexy with the help of high heels, exuding your own charm.
6.Sweetheart Strapless Mermaid Side Slit Soft Satin Long Bridesmaid Dresses Online
The Alvina Dress has a classic sweetheart neckline, which strikes a nice balance between sweet and sexy.It has been popular for bridesmaids for decades, and this trend is set to continue. The thicker band of material brings the dress in at the waist, while the ruching across the hips and the bust show off your bridesmaid's curves. The dress is both fully-lined and floor length for a graceful look, while the zipper up the back means that your bridesmaid will feel secure and supported on the big day.
7.Sexy Soft Satin Side Slit One Shoulder Long Mermaid Bridesmaid Dresses Online
The Chole dress has an off-one-shoulder style on one side for a sexy and stylish look, and a wide-strap design on the other, it's an elegant and generous design. The floor-length design fits in all the right places, while the split legs will make your bridesmaids look glamorous and ready for red carpet-ready. The pleated design on the front is suitable for all body types, and the zipper on the back makes the dress easy to put on and take off. And the mermaid dress will show off your body curves, the dress will be a stylish choice for any wedding. 
8.Sexy Side Slit Soft Satin Spaghetti Straps Mermaid Bridesmaid Dresses Online
The Flores dress is a sleek, simple and minimalist soft satin design which is a modern twist on the traditional bridesmaid dress. The spaghetti straps, floor-length and minimal detailing are stunning, but simple enough so as not to divert attention from the bride on her special days.Soft-satin material leads to an  ethereal look for your bridesmaids. The material drapes beautifully over the hips, flattering any body shape, showing off your sexy curves. Turst us, you can't go wrong with anstylish and minimalist dress. If you want to make it a little more advanced, just spend some thought on accessories.
A pretty blush that will add a pop of color to your toned bridal party. Blush bridesmaid dresses are the perfect outfit for all moments before, during and after the big day. Chisew wants you to get some inspiration and ideas by learning about the best-selling blush bridesmaid dress styles. If you are looking for inspiration for your upcoming wedding, visit our official website to learn more about blush bridesmaid dresses.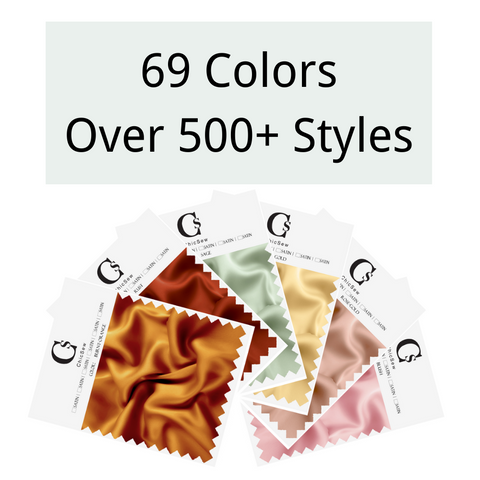 Of course,you and your bridesmaids have endless options when it comes to bringing your dream wedding to life.If you want to try other colors, you can browse our website, there are 69 colors for you to choose from so that you can create your own wedding shade, shop now!