The Perfect Color Palettes for Your Summer Wedding
Is there a more perfect season than summer? A monotonous sweater is packed in order to give priority to a refreshing bright flock. Juicy drupes are ripe for picking. A beautiful beach excursion is just around the corner. Just look at the bright and bold shades of rainbow around you to create the perfect color palette for your summer wedding.  
Choosing the season for your wedding is a big decision. Respect your choice in summer wedding dresses that reflect your special occasion. If you don't know where to start, don't worry. We have lots of summer wedding dresses ideas for you to check out below. Summer weddings usually use the brightest and boldest palette, for good reason. It is sandwiched between many spring pastel and rich autumn gem tones. You can match the color of the season or change the color scheme with your favorite metal. Bridesmaid is the majority of the wedding, so they can represent the summer scheme. We choose the perfect suitable colors to match your summer wedding. We hope that this blog can give you some good ideas and inspire your wedding planning.
In summer, we can often drink lemonade, which is refreshing and tasty. So lemon yellow is a frequent visitor to summer weddings, because it is the natural color of summer. For the hot summer palette, mixing lemon yellow with white wedding dresses and green backgrounds, your wedding will be full of vitality and passion, elegant and bright. Lemon yellow is a joyful and interesting color, it is so warm and beautiful, we can't wait to share this color of bridesmaid dress with you! The bridesmaid wearing this color will make the wedding atmosphere more joyful, energetic, and set against the sun. Try a refreshing style with a relaxed fit, such as Lemon Bridesmaid Dresses.
Flamingo wedding theme? It's so unusual, so happy! The flamingo symbolizes loyalty and love, and is suitable for this summer. These beautiful pink feathered friends are everywhere in the recent wedding scene, and these cute long-legged birds can even show a fabulous wedding. Add them to your aisles, tables, and use as cake decorations – your important Days will become very interesting! This group of fabulous flamingo wedding theme ideas will add a touch of pink whimsy to your wedding and bring you inspiration!
And you rarely wear flamingo-colored bridesmaid dresses, so why not come with one at this summer wedding? If the bridesmaids wear this color, it will reflect the wedding theme. The wedding is free and relax like a flamingo, elegant and beautiful, and youthful.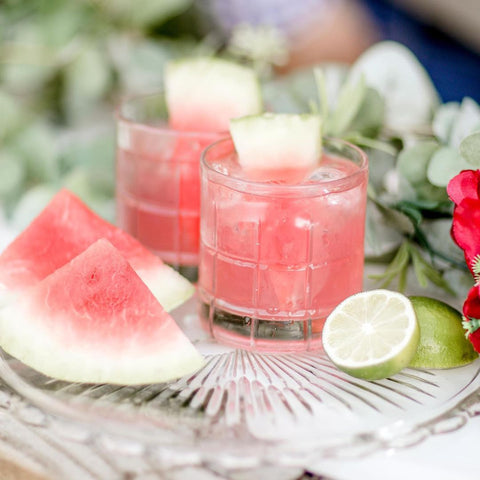 In midsummer, watermelon is the most common and seasonal fruit. In addition to being a delicious and nutritious fruit, watermelon also provides newcomers with a unique color-watermelon red. It is between the tenderness of pink and the warmth of red, but it has the charm of another kind of woman uniquely. Watermelon red is the color of ripe watermelon flesh. It belongs to the warm color system and the color is very bright. It is a color that sets off the skin tone and gives a very soft feeling. So this color can bring a bright and youthful feeling in summer. Just like this, a touch of watermelon red is like a cool breeze in the hot summer, in a bold way, it brings the sweetness of summer, a cute and playful color.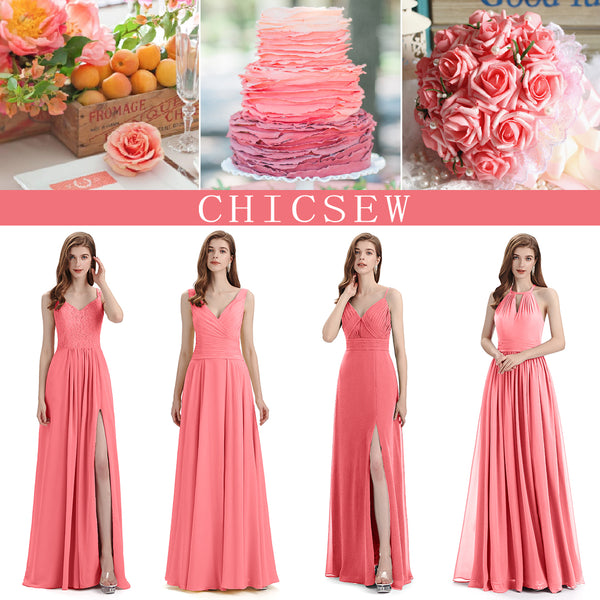 There is a romantic thing on the beach-sand on your toes, loud waves crashing against the sunset, and the sun on the horizon. No wonder many romantic dramas take a leisurely walk on the beach as their main plot. Then you must not miss a beach wedding this summer. Under the palm trees, overlook your favorite beach and write a vow of love with your lover. The theme of a beach wedding must be the most romantic and memorable. First, The choice of clothes for a beach wedding must be light and comfortable. Secondly, the color of the bridesmaid's dress should be the color of the sea, which echoes the sea. Ocean blue bridesmaid dresses are the best choice for you in summer wedding. Do you want to hold such a romantic sea wedding? Create the most beautiful you against the sea.
In the hot summer, summer weddings are full of fiery unique romance. We have provided you with so many weddings in different colors. Which one do you prefer? Different colors also represent different wedding scenes, which are undoubtedly romantic and passionate. In this enthusiastic summer, bright colors must be the perfect choice. During summer weddings, brides and bridesmaids don't have to stick satin dresses on their skins like in winter. Wedding dresses and bridesmaid dresses can choose lighter fabrics such as chiffon and there are fewer restrictions. Many of these loose and elegant dresses use these colors making the dress more elegant without losing dignity. In this year's wedding season, you may notice these exciting new summer trends. Now there is no time for more creativity and rich colors than summer, so please embrace these bold and bright colors for the warm weather!