Top 5 Elegant Soft Satin Bridesmaid Dresses from Chicsew
Long formal dresses are always trendy, elegant and unique in various colors and styles. Bridesmaid dresses from Chicsew are always affordable and decent, with a variety of cuts and lengths.
There are several tricks that as a bride you can apply when choosing bridesmaid dresses for your girls.
Shape and build of a person. You can't expect the same dress to fit everyone the same because that's impossible, we're not all the same, so the dress won't fit the same either.
The second point is the length of the dress. Short girls prefer shorter dresses to make their legs look longer, so tall girls prefer longer dresses because they look taller and more elegant.
Material. This point is very important because we all want to look nice at the wedding and feel beautiful and tender. That's why it's important to choose a good material that won't irritate, scratch and make you nervous. I believe that at least once you have encountered bad material and it did not end well. Therefore, choose nice and soft materials that will please the skin, such as satin and cotton.
It is best to organize the wedding in several points so that you don't forget anything, so that you can be completely relaxed on your big day. Your day, your wedding, once in a lifetime, you should enjoy, let other people organize and manage everything, and you relax. It would be best if you make an agreement with someone who will talk to everyone in advance and organize everything as to how things will go at the wedding, usually it is the godmother or the best friend. Someone you trust, someone you love AND value.
Make the wedding as big as you think it should be, and of course, as much luxury as you can afford. When you have chosen the dresses for the bridesmaids, there is the organization of the wedding. It is best to start from the wedding hall, from decorating the tables, choose a bouquet of flowers as well as flowers for each table separately, balloons and decorations in the space but also at the tables. Don't forget the decor of the huge canvas where you will take pictures with all the guests because it will remain forever in your memory as well as memories like photos.
Nowadays, it is popular to personalize something, make it for all the guests, like a chocolate bar with your names and the date of the wedding, which you will place on the tables of your guests. That way the guests will take something from your wedding and I believe that it is a great detail, but also good marketing for the person or brand that made them, and especially that they made an effort to make your day better.
The dresses you choose with your bridesmaids could match the theme of the wedding, which it's always been popular. I believe that you will all be delighted with the dresses and the accessories from Chicsew, because you can find what you've been looking for, and in such an era that information technology develops rapidly, this is not easy. 
Now we can move on to the dresses.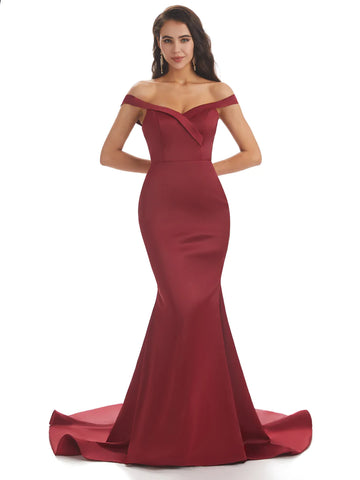 The first dress that made an impression is the Off-Shoulder Soft Satin Mermaid Long Bridesmaid Dress that is very elegant and accurate. Two straps hang down on the shoulders like sleeves, the dress is narrow and follows the line of the body, it slowly widens from the knee downwards, and that's what makes this dress special. There are sizes (True to size 0-30) as well as 70 colors, so if you want exactly this model, it's not a problem, we have other shades of colors. I am sure you will find something for yourself.
The V-Neck Long Wedding Bridesmaid Dress is made of satin, you can tell by the fact that it sparkles a little, discreet but very beautiful, the dress is made really beautifully. The sleeves are placed at the end of the shoulders, many times the material is folded there to create this trend. From the waist down it widens but very little, but very enough to make the dress look wonderful. With loose hair and soft curls, with a minimum of jewelry, you can achieve the effect of a real beauty and princess.
The Mermaid Off-Shoulder Floor Length Bridesmaid Dress is a wonderful soft color, it looks so simple but very effective. With this dress that slowly widens from the knees and drags a little on the ground, all you need is a pair of skirts or a necklace and you're ready. Shoes, purse, jewelry, hairstyle and make-up are so natural that you will be delighted with this dress. I believe that you will love it and be very happy to wear it because this is a wonderful and unique dress.
You are definitely not ready for this dress, this is definitely the strongest blue color I have ever seen. Hig Low Royal-blue Bridesmaid Dress, satin dress that shines, great for all dark haired girls. In particular, this dress has short sleeves that fall just a little on the arms. The dress follows the body line and widens slightly below the thighs, it is shorter in the front and longer in the back, it is made really stylishly.
Finally, the Spaghetti Straps Off Shoulder Floor-Length Bridesmaid Dress, which one that can help hide your stomach if you have a few kilos of excess weight. This dress has thin straps, but it also has a ruching that covers the bust and part of the stomach, so that's great. You can wear it and be slim. Just look at how beautiful she is, she is extraordinary and special, she simply gives joy and you cannot remain indifferent. Everyone who tried satin as a material was delighted, because satin is the most pleasant material you can afford.
Which model do you like best?  Which color do you like the most?