You Need to Know About 10 Wedding Bouquet Flowers and Their Meanings
Choosing a theme or color scheme for your wedding is all about aesthetics—finding the appropriate things to fit it. You've chosen the ideal gown and the most stunning shoes, and your bridesmaids are overjoyed. Flowers are coming next! The flowers you select for your wedding day have a significant impact on the overall appearance of your wedding day. Flowers have been used for millennia to communicate emotions or represent certain attributes, and each bloom has its own unique and special meaning. Is your favorite flower connected with good luck, love, happiness, or fidelity? We've chosen our 10 favorite flowers and revealed their meanings so you can pick the ideal bloom for your bridal bouquet! Let's take a look at flowers as a love language! 
1. Rose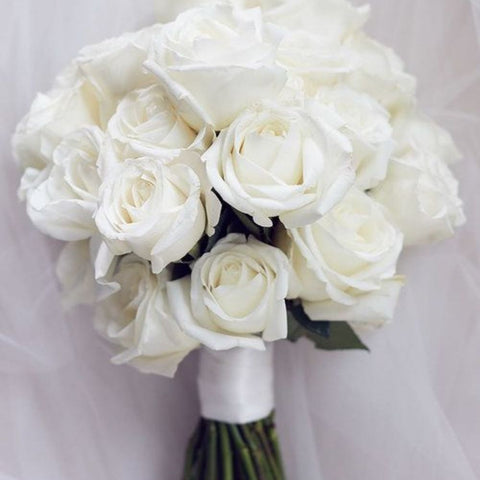 Always a popular option for good reason. The rose is one of the oldest known flowers and is the most famous portion of every bridal bouquet. Nothing says it better than red roses, which signify passionate love, in your bridal bouquet to tell the world how you feel about your better half. However, different colors of roses have distinct meanings; pink roses indicate admiration, while yellow roses represent friendship.  
2. Sunflower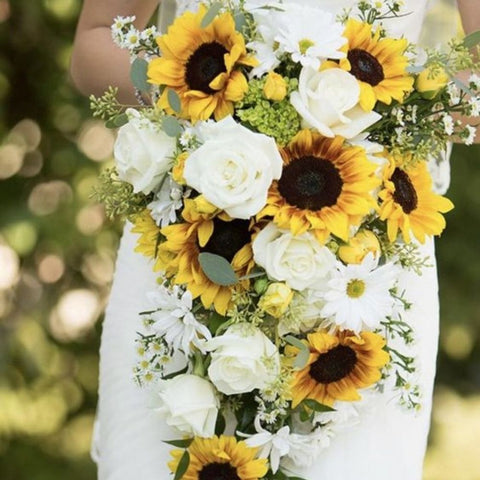 Sunflowers, which represent devoted devotion, are admired for their brilliant beauty and look-at-me attractiveness. These blossoms also represent steadfast faith and unfailing love. The sunflower is also connected with good fortune, vigor, cleverness, and happiness in Chinese culture. Sunflowers are an excellent choice for a flower that exudes happiness and enthusiasm on your wedding day. 
3. Lily of the Valley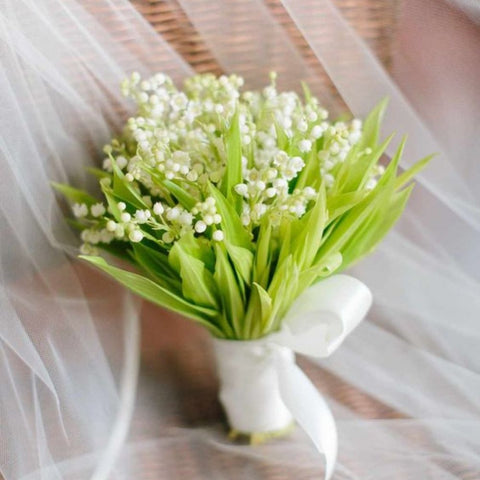 It has always been loved by celebrities and royal families. If you want to create a romantic French wedding, choose Lily of the Valley for the bouquet. Lily of the valley, as its name suggests, is a cluster of snow-white bell-shaped flowers, as if they can ring the bell representing happiness and hope with the breeze; and its vague fragrance, like the happiness overflowing from the heart, stretches and warms graceful, implicit and clear; the flower language of lily of the valley is "happy comeback". In the love myths of Ukraine, Nordic France and many other countries, lily of the valley has aptly interpreted those fateful encounters: firm and eternal love. 
4. Tulip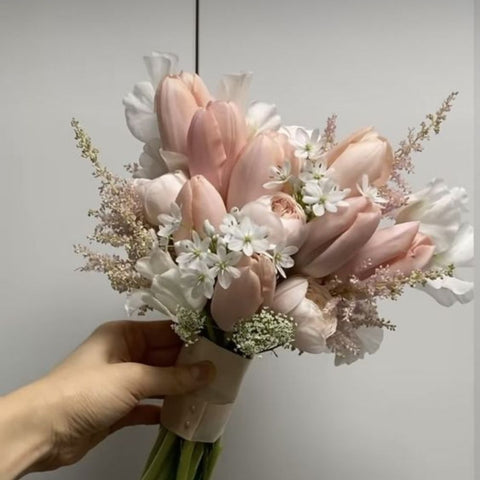 Tulip is regarded as a symbol of victory and beauty, and it also represents the confession of love and eternal blessing. There are many colors of tulips, and different colors also represent different meanings. Among them, red tulips represent ideal love, yellow represents sunshine, and variegated represents lovely eyes. 
5. Hyacinth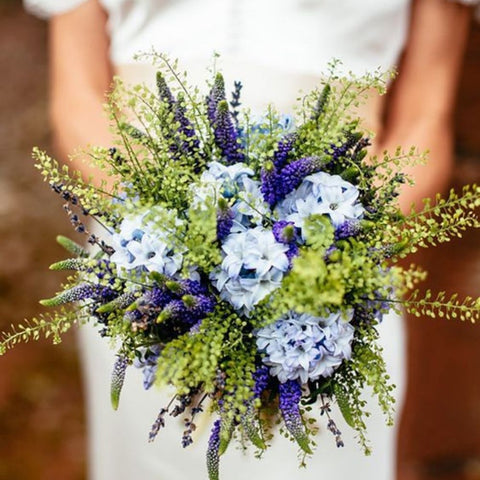 The flower color of hyacinth is unique, and the color is dotted with faint white, which makes people feel calm and beautiful. Its flower language is sincere love, and it can always bring a unique color feeling, making the bridal bouquet look special and beautiful. 

However, different colors of hyacinths also have different meanings. Blue hyacinth represents life, and it is the ancestor of all hyacinths. Those who are born with the blessing of this flower will be full of vitality in life. On the wedding day, the bride holds a bouquet of blue hyacinths, representing eternal happiness between husband and wife. Yellow hyacinth represents happiness and warmth. Pink hyacinth is the symbol of romance and tranquility.
6. Baby's Breath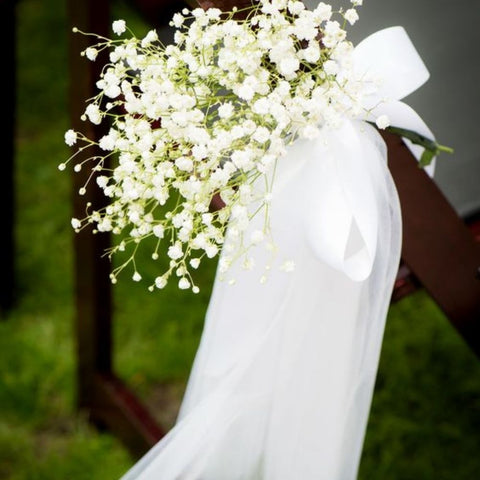 Baby's Breath is a classic element of bridal bouquets. These lovely flowers symbolize everlasting love and are ideal for a wedding. In addition, the baby's breath flower language includes the concept of real love. Its blossoms are tiny and are frequently used to match other flowers, giving the bouquet the appearance of a sky full of stars, and giving people a romantic and lovely impression.
7. Orchids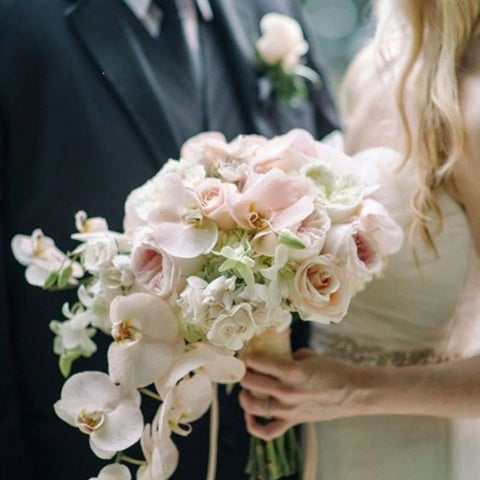 Orchids are symbols of love, elegance, beauty, and strength. These flowers also represent wealth, making them an excellent choice for adding a wow element to your arrangement. Since the Victorian era, the orchid has been seen as a sign of elegance, beauty, and love, making it a favorite option for weddings. Carrying a bouquet of this exotic beauty on your wedding day might be rather striking.
8. Eustoma grandiflorum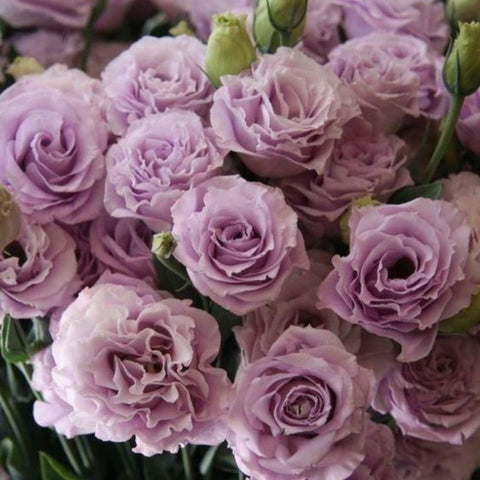 Eustoma grandiflorum petals are light and graceful, with a sad and enigmatic beauty to the color tone. The disposition is graceful and modest, refined, elegant, and vibrant, and the deep friendship is waiting for the demure and lovely bride to show everyone.

At the wedding bouquet, other purple flowers can be added to Platycodon grandiflorus bouquets to enhance the beauty in color and texture. This combination of white Platycodon grandiflorus and pink-purple thick roses is forceful and harmonious, delicate and regal, and incredibly appealing.
9. Dahlias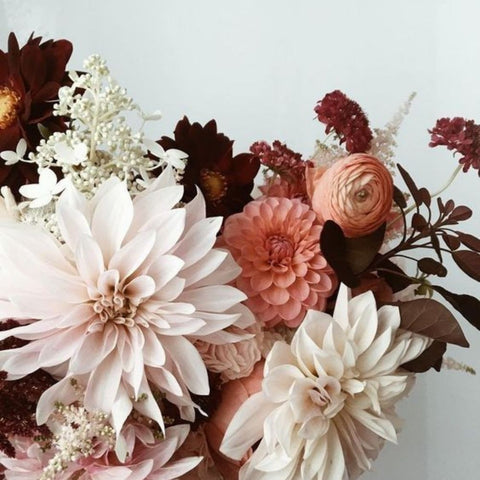 If you want to pick a sumptuous and atmospheric bouquet, then dahlias are the most relevant initial choice, or if you are planning a garden wedding, then this is the ideal decision. Dahlia petals are perfectly organized like carvings, and the hues are consistent and solid, red like agate, pink like dawn brightness...

With a graceful and beautiful dahlia ball complimenting the stunning wedding gown and sparkling jewelry accessories, such a bride will undoubtedly become the ideal contender for the most mature, generous, lovely, and costly bride in everyone's eyes.
10. Gardenia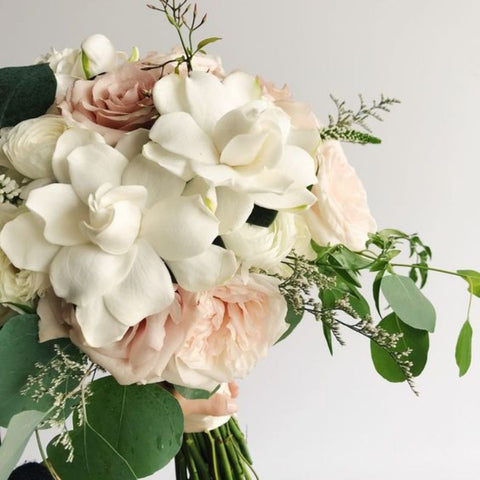 Gardenia is the flower to select if you want to pick a kind of flower to express that kind of moisten the touch of a lifetime. Gardenia from the long winter began to give birth to the flower bud, and to the full summer can bloom, during this period experienced countless wind and rain trials, and leaves long green not withered, flowers full of fragrance full sleeves - all this has given the gardenia flower to the deepest emotional allegory. Under its gentle and tough appearance, what it contains is the essence of love beautiful and tough, and fragrant for a long time. Take a bouquet of gardenia, even if you don't need the complicated decoration, you are already the most enviable happy bride in this world.